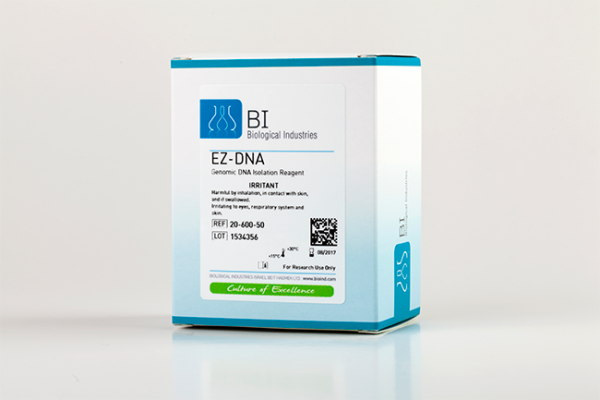 EZ-DNA Genomic DNA Isolation Kit
Fast procedure, permits isolation of genomic DNA
Recovery is between 70-100%
Description
Specifications
Documentation
Reviews (0)
Description
EZ-DNA Genomic DNA Isolation Kit
EZ-DNA is a non-organic and ready-to-use reagent for the isolation of genomic DNA from samples of human, animal, plant, yeast, bacterial and viral origin. EZ-DNA is based on disruption of cells in a guanidine-detergent lysing solution that hydrolyzes RNA and allows the selective precipitation of DNA from a cell lysate with ethanol.
Following an ethanol wash, the DNA is solubilized in water or 8 mM NaOH. There is no phenol in EZ-DNA.
Advantages
Fast procedure, can be completed in 10-30 minutes
Permits isolation of genomic DNA from a large number of samples of small or large volumes
The percentage of DNA recovery is around 70-100%
The isolated DNA can be used, without additional purification, for Southern analysis, dot blot hybridization, molecular cloning, RFLP, PCR and other molecular biology and biotechnology applications.
Additional information
| | |
| --- | --- |
| Quantity | 50 reactions |
| Storage Conditions | AMB |
| Shipping Conditions | Room Temperature |
Materials Safety Data Sheet
Manuals and Protocols