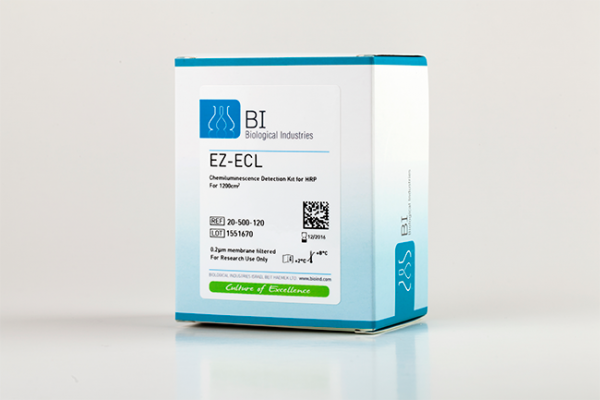 EZ-ECL Kit
EZ-ECL Enhanced Chemiluminescence Detection Kit for HRP
| name | SKU | size |
| --- | --- | --- |
| EZ-ECL Kit, 120mL | 20-500-120 | 120mL |
| EZ-ECL Kit, 500mL | 20-500-500 | 500 mL |
| EZ-ECL Kit, 1000mL | 20-500-1000 | 1000mL |
Description
Specifications
Documentation
Reviews (0)
Description
EZ-ECL Kit
EZ-ECL Chemiluminescence detection kit for HRP is a complete kit with ready-to-use reagents for enhanced chemiluminescence detection of immobilised proteins i.e. Western blotting or immobilised nucleic acids i.e. Southern or Northern blotting, conjugated with HRP (Horseradish Peroxidase) either directly or indirectly.
In the presence of hydrogen peroxide (H2O2), Horseradish peroxidase (HRP) catalyzes the oxidation of cyclic diacylhydrazides, such as luminol. Immediately following the oxidation, the luminol is in an excited state (intermediate reaction product), which decays to the ground state by emitting light. Strong enhancement of the light emission is produced by enhancers, such as phenolic compounds.
It is possible to detect membrane immobilised specific antigens by using this method, or even sequences of nucleic acids, labeled directly with HRP or indirectly with HRP labeled antibodies/streptavidin.
Advantages
High sensitivity non-radioactive detection system
Stable hard copy results on film
Only small amounts of antibody required
Detection may be achieved in short exposure times (minutes)
High resolution
Additional information
| | |
| --- | --- |
| Quantity | 1000mL, 120mL, 500 mL |
| Storage Conditions | 2-8°C |
| Shipping Conditions | Cold Pack |
Materials Safety Data Sheet
Manuals and Protocols