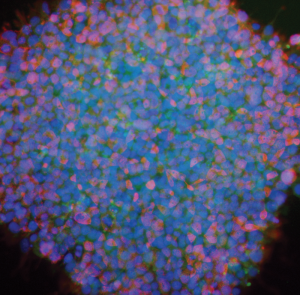 Human pluripotent stem cell culture
High-quality, xeno-free products are essential for successful and reproducible human pluripotent stem cell culture. The transition from stem cell culture research models to clinical applications requires the design and implementation of qualified protocols and operating processes.
Our innovative product portfolio provides an optimized cell culture environment to help ensure the consistency, efficiency and precision that is vital in your hPSC research.
The defined, serum-free and xeno-free Nutristem media family and its auxillary products are manufactured in a cGMP compliant facility. These products can facilitate the development of regenerative stem cell therapies, where implantation in to humans is the end goal.
All of Biological Industries stem cell culture products are manufactured in accordance with superior quality standards, extensively quality control tested and functionally characterized for performance in relevant hESCs and hiPSCs
Download the full brochure for additional information and scientific data.
Accutase Solution

Gentle alternative solution to trypsin

Used for cell detachment and tissue dissociation

SKU: 03-073-1B