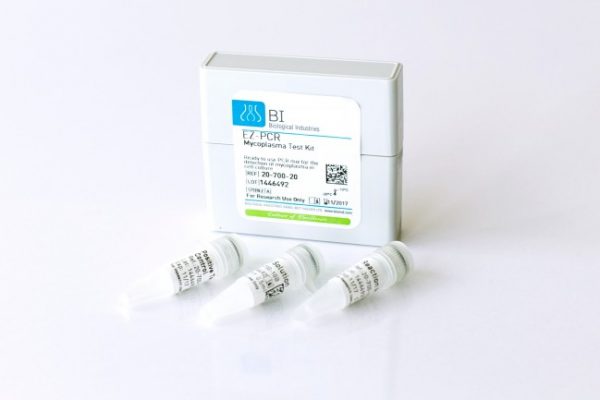 EZ-PCR Mycoplasma Test Kit
Fast results, reliable, and easy-to-use.
20 assays
Description
Specifications
References
Documentation
Reviews (0)
Description
EZ-PCR Mycoplasma Test Kit Overview:
The EZ-PCR Mycoplasma Test Kit is a highly-sensitive and specific PCR-based assay capable of detecting a broad range of mycoplasma species in cell cultures and other biological materials. This kit contains an optimized, complete PCR mix, including a variety of mycoplasma-specific primers, dNTP mix, and Taq polymerase. The simple protocol and ready-to-use system means that samples can be prepared and run in just 10 minutes, with comprehensive and accurate results available within a couple of hours.
Mycoplasma testing should be performed routinely every 3 to 6 months and when incorporating new cultures from external sources into your laboratory.
Mycoplasma
Detects a variety of mycoplasma species: M. fermentans, M. hyorhinis, M. arginini, M. orale, M. salivarium, M. hominis, M. pulmonis, M. arthritidis, M. bovis, M. pneumoniae, M. pirum and M. capricolum, and Acholeplasma and Spiroplasma species, with high sensitivity and specificity.
Does not interfere with media components.
Advantages
Samples are easy to prepare
Fast, reproducible, and reliable results
No need for internal control application steps
No loading dye needed for the agarose gel
Kit Components
Reaction mix: 200 µL
Buffer solution: 1 mL
Positive template control : 20 µL
Additional information
| | |
| --- | --- |
| Quantity | 20 assays |
| Brand | |
| Storage Conditions | -20º |
| Shipping Conditions | Dry Ice |
Materials Safety Data Sheet
Manuals and Protocols
Additional Resources