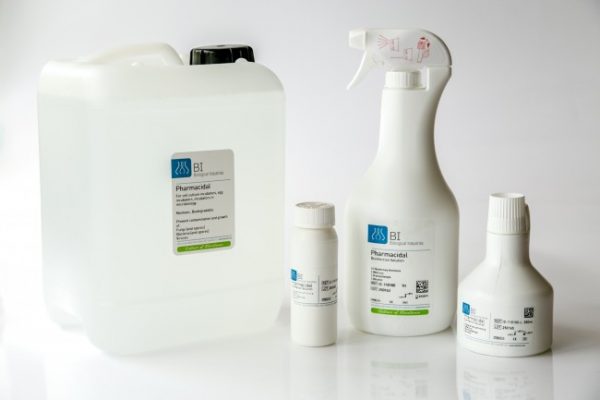 Pharmacidal Sprays and Solutions
Available Sizes Pharmacidal™ Spray:
100 mL | 250 mL | 1 L | 5 L |
| name | SKU | size |
| --- | --- | --- |
| Pharmacidal Spray, 100mL | IC-110100-B | 100 mL |
| Pharmacidal Spray, 250mL | IC-110100-L | 250 mL |
| Pharmacidal Spray, 1L | IC-110100 | 1 L |
| Pharmacidal Solution (refill, bulk), 5L | IC-110100-G | 5 L |
Description
Specifications
Documentation
Reviews (0)
Description
Pharmacidal Overview:
Pharmacidal Spray is a non-toxic, biodegradable and non-corrosive disinfectant solution that is to be used in incubators and on all common work surfaces in cell culture and molecular biology laboratories to prevent mycoplasma contamination. It is more powerful than ethanol and other common alcohol based disinfectants but is much less harmful. Quaternary benzylammonium compounds in the solution prevent the growth of a variety of common and dangerous contaminants, without the toxic effects of other disinfecting solutions. Proven to protect against numerous types of contaminants, including:
Bacteria
Fungi (including spores)
Viruses (including HIV and Hepatitis B)
Mycoplasma
Pharmacidal Spray, when used as directed, has been shown to have no effect on the morphology, cell proliferation and expansion, pluripotency marker expression, or karyotype of human pluripotent stem cells and is appropriate for use in pluripotent stem cell culture.
Instruction For Use
Spray incubators once every 2 weeks (it is not necessary to empty the incubator before spraying)
Spray sterile benches once a day, or preferably before using the work area.
The surfaces to be disinfected should be completely wet by spraying. Allow to air-dry.
Additional information
| | |
| --- | --- |
| Quantity | 1 L, 100 mL, 250 mL, 5 L |
| Brand | |
| Storage Conditions | AMB |
| Shipping Conditions | Room Temperature |
Materials Safety Data Sheet
Manuals and Protocols
Technical Reports