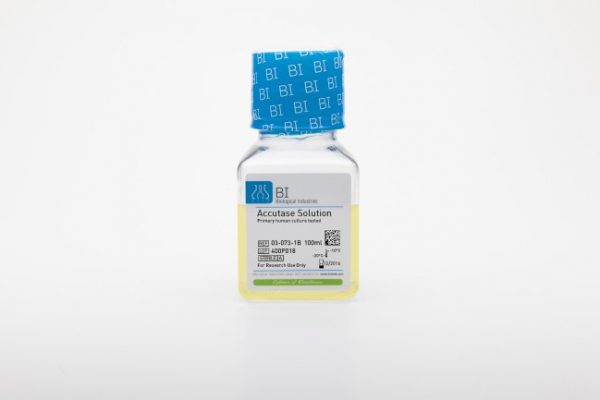 Accutase Solution
Gentle alternative solution to trypsin
Used for cell detachment and tissue dissociation
SKU: 03-073-1B
Description
Specifications
References
Documentation
Reviews (0)
Description
Product Overview
Accutase Solution is an alternative solution to trypsin which can be used for the gentle detachment of adherent cells.
Accutase solution is a ready-to-use solution for dissociation of cells from standard and adhesion-coated culture dishes, in addition to gentle tissue dissociation. It contains no mammalian or bacterial-derived components and its unique composition of proteolytic and collagenolytic enzymes ensure that surface proteins and epitopes remain unchanged. This makes Accutase ideal for applications that require an unchanged cell surface and allows for analysis of cell surface markers, cell proliferation, routine cell passage, production scale-up and flow cytometry.
Accutase can be used on a range of cell types, including human embryonic stem (hES) cells, neuronal stem cells, fibroblasts, keratinocytes, vascular endothelial cells, hepatocytes, vascular smooth muscle cells, hepatocyte progenitors, primary chick embryo neuronal cells, bone marrow stem cells, adherent CHO and BHK cells, and macrophages.
Features
Ready-to-use solution
No mammalian or bacterial-derived components
Effective in detaching primary fibroblasts, endothelial cells, neurons, tumor cell lines, and insect cells
Suitable for detaching cells for cell surface marker analysis, virus growth assay, flow cytometry, and bioreactor scale-up
Additional information
| | |
| --- | --- |
| Quantity | 100 mL |
| Storage Conditions | -20ºC |
| Shipping Conditions | Dry Ice |
| Form | Liquid |
1.  Bajpai, R., et al. (2008). Efficient propagation of single cells accutase-dissociated human embryonic stem cells. Mol Reprod Dev 75: 818-827.
2.  Zheng, K., et al. (2006). Comparison of different culture modes for long-term expansion of neural stem cells. Cytotechnology 52: 209-218.
3.  Wachs, F.P., et al. (2003). High efficacy of clonal growth and expansion of adult neural stem cells. Lab Invest. 83: 949-962.
Manuals and Protocols
Technical Resources