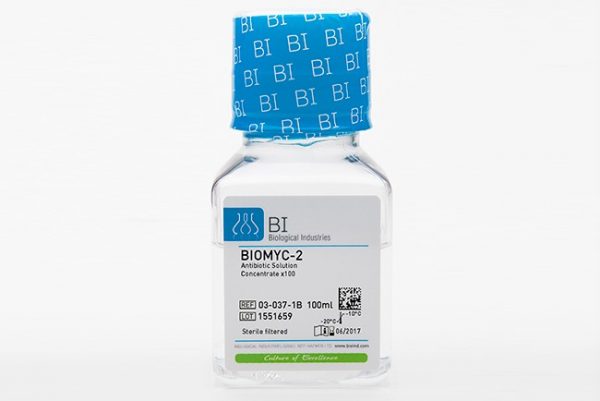 BIOMYC-2 Antibiotic Solution
Treatment based on the antibiotic Minocycline
Use with with BIOMYC-1 Antibiotic Solution
Available Sizes:
10 mL | 20 mL | 100 mL |
| name | SKU | size |
| --- | --- | --- |
| BIOMYC-2 Antibiotic Solution, 10mL | 03-037-1D | 10mL |
| BIOMYC-2 Antibiotic Solution, 20mL | 03-037-1C | 20 mL |
| BIOMYC-2 Antibiotic Solution, 100mL | 03-037-1B | 100 mL |
Description
Specifications
Documentation
Reviews (0)
Description
BIOMYC-2 Antibiotic Solution
BIOMYC ™-1 solution, when used in conjunction with BIOMYC-2, is an effective treatment for eliminating mycoplasma contamination in cell cultures. BIOMYC-1 is based on the antibiotic Tiamutin whereas BIOMYC ™-2 is based on the antibiotic Minocycline. Unlike other antibiotic treatments, mycoplasmas don't develop resistance to these particular antibiotics.
This treatment method involves BIOMYC ™-1 and BIOMYC ™-2 been used in alternating cycles.
Recommended Use:
Tip: Four days with BIOMYC-1 (Tiamutin) followed by three days with BIOMYC-2 (Minocycline) then repeating the cycle three times.
The two solutions should be used sequentially, not together.
Add 1ml BIOMYC-1 to 100ml medium, and maintain the contaminated cells in this mixture for 4 days. Any fresh medium added should also contain BIOMYC-1.
After 4 days, add 1ml BIOMYC-2 to 100ml fresh medium, and maintain the cells in this second mixture for 3 days.
The above, together, are considered as one treatment cycle. It may be necessary to repeat this cycle 2-3 times.
During the process, the cells can be tested for mycoplasma contamination, and results can then be used to shorten the process when possible.
Please note: When the treatment has been completed, the cells should be grown on media without antibiotics for at least two weeks and then re-tested for the presence of mycoplasma. If you get a positive result when testing this culture, you should repeat the course of treatment.
Additional information
| | |
| --- | --- |
| Quantity | 100 mL, 10mL, 20 mL |
| Brand | |
| Storage Conditions | -20º |
| Shipping Conditions | Dry Ice |
Manuals and Protocols