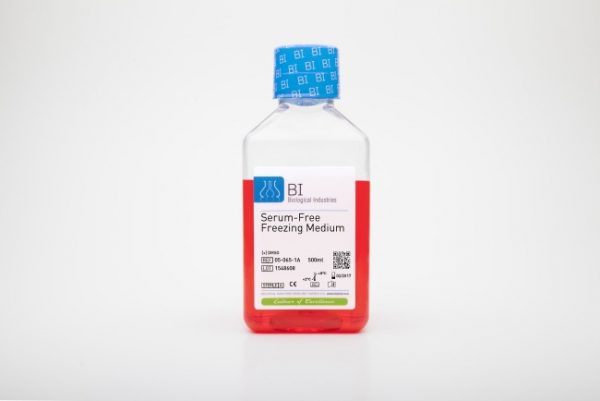 Serum-Free Cell Freezing Medium
A chemically defined, animal component-free, protein-free cryopreservation solution
| name | SKU | size |
| --- | --- | --- |
| Serum-Free Cell Freezing Medium, 20mL | 05-065-1C | 20 mL |
| Serum-Free Cell Freezing Medium, 500mL | 05-065-1A | 500 mL |
Description
Specifications
References
Documentation
Reviews (0)
Description
Serum-Free Cell Freezing Medium
The Serum-Free Cell Freezing Medium is a ready-to-use, animal component-free, serum-free, and protein-free cryopreservation solution optimised for various cell lines.  When culturing cells in a serum-free environment, it is vital to also maintain serum-free conditions during cryopreservation.
The Serum-Free Cell Freezing Medium has been shown to result in high rates of cell viability, proliferation, adherence (in appropriate lines), and bioactivity/ expression following freezing and thawing.  Superior results were observed when comparing both serum-containing freezing media as well as competing serum-free products. This freezing medium is therefore an ideal product for both serum-containing and serum-free applications.
The Serum-Free Cell Freezing Medium has been extensively tested on multiple cell lines, including 3T3, BGM, vero cells, MRC-5, HEK-293, HEp-2, BSC-1, BF16-F10, BHK-21, CHO, HELA, MA-10, and mesenchymal cells.
Advantages
Animal component-free, serum-free, protein-free solution
CE mark
Ready-to-use solution, simple protocol
Cryoprotective formulation designed to minimize dehydration effects
Effective maintenance of cell viability, adhesion, and bioactivity
Suitable for use in cell banks and biopharmaceutical applications
Instructions For Use
Cryopreservation of serum-free cell cultures 
For freezing adherent cells, detach cells using the appropriate dissociation solution. (For freezing of cells in suspention, skip to step 2.)
Centrifuge to pellet the cells at 200 – 300 x g for 3 to 5 minutes.
Suspend the cell pellet in cold Serum-Free Cell Freezing Medium at a concentration of 3 to 5 million cells/mL.
Freeze the cells gradually (1 to 2°C per minute) and store them in liquid nitrogen.
Viability and recovery of cryopreserved cells should be evaluated 24 hours after storage of vials in liquid nitrogen by following the thawing procedure outlined below.
Thawing cryopreserved cells 
Thawing should be performed at 37°C.
Immediately after thawing, suspend the cells in serum-free growth medium at a ratio of at least 1:10.
Centrifuge and suspend in growth medium as desired.
Culture the cells according to the recommended seeding density.
Additional information
| | |
| --- | --- |
| Quantity | 20 mL, 500 mL |
| Storage Conditions | 2-8°C |
| Shipping Conditions | Cold Pack |
E. Nigro, E. Soprana, A. Brini, et l., An Antitumor Cellular Vaccine Based on a Mini-Membrane IgE. J Immunol 188:103-110 (2012).
G. Di Lullo, E. Soprana, M. Panigada, et al. The combination of marker gene swapping and fluorescence-activated cell sorting improves the efficiency of recombinant modified vaccinia virus Ankara vaccine production for human use. J. of Virological Methods, 163, Issue 2: 195–204 (2010)
Amit, Michal, and Joseph Itskovitz-Eldor. Novel methods and culture media for culturing pluripotent stem cells. U.S. Patent Application 13/821,244.
De Falco, Elena, et al. A standardized laboratory and surgical method for in vitro culture isolation and expansion of primary human Tenon's fibroblasts.Cell and tissue banking 14.2 (2013): 277-287.
Materials Safety Data Sheet
Manuals and Protocols