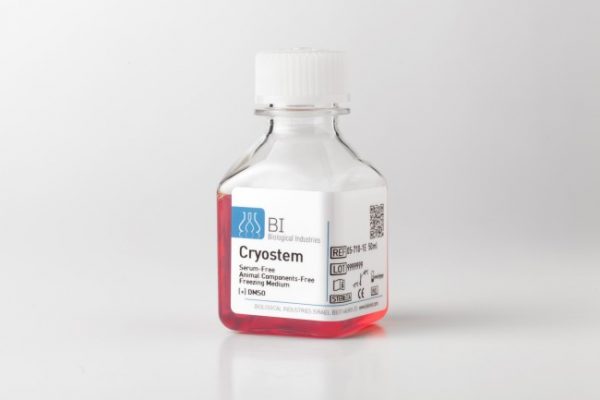 Cryostem hPSC Freezing Medium
Chemically defined, animal component-free, protein-free cryopreservation solution for human ES cells and iPS cells.
| name | SKU | size |
| --- | --- | --- |
| CryoStem™ Freezing Medium | 05-710-1D | 10mL |
| CryoStem™ Freezing Medium | 05-710-1E | 50 mL |
Description
Specifications
References
Documentation
Reviews (0)
Description
Cryostem hPSC Overview
CryoStem™ hPSC Freezing Medium is a ready-to-use solution for the cryopreservation of human embryonic stem (ES) cells and induced pluripotent stem (iPS) cells in serum-free and animal component-free conditions. Pluipotent stem cells preserved with CryoStem™ hPSC Freezing Medium demonstrate high viability and recovery after thawing, and express typical pluripotent markers in culture. CryoStem Freezing Medium maintains xeno-free conditions during cryopreservation when your cells have been cultured in a xeno-free system.
CryoStem hPSC Freezing Medium has been validated on human ES cells (H1, H9 and HuES9). Superior results were seen when used in comparison with both serum-containing freezing media as well as competing serum-free freezing solutions.
CryoStem is a novel solution composing of methylcellulose and DMSO therefore eliminating the risks associated with sera and serum-derived products.
Features
Chemically defined, Animal component-free (ACF), Protein-free
Works with various media
Suitable for freezing hESC and hiPSC cultured in both feeder and feeder-free conditions
High recovery efficiency: maintains superior attachment ability as well as growth profile
Maintains hESC and hiPSC pluripotency
Complete formulation; Ready-to-use at 2-8°C
Additional information
| | |
| --- | --- |
| Form | Liquid |
| Brand | |
| Storage Conditions | 2 to 8°C |
| Instructions for Use | Do not use if a visible precipitate is observed in the medium. Do not use beyond the expiration date indicated on the product label. |
| Legal | CryoStem Freezing Medium is intended for in vitro diagnostic use |
| Quantity | 10mL, 50 mL |
Materials Safety Data Sheet
Manuals and Protocols
Product Literature
Technical Reports