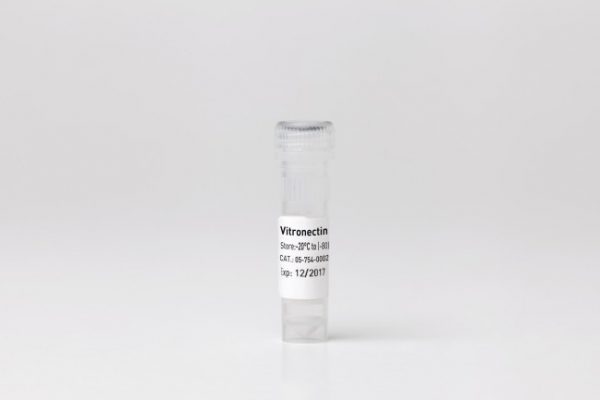 Vitronectin ACF (Human Recombinant), 200 µg
Recombinant lyophilized protein for the attachment of human pluripotent stem cells.
Description
Specifications
Documentation
Reviews (0)
Description
Vitronectin
Recombinant Vitronectin ACF is a chemically-defined matrix component for the attachment of human embryonic and induced pluripotent stem cells in a feeder-free culture system. Recombinant Vitronectin ACF is a 459 amino acid, single-chain, monomeric protein, which migrates at an apparent molecular weight of 75 kDa by SDS-PAGE under reducing conditions. The calculated molecular weight is 52.2 kDa.
Specifications
Sterile filtered and lyophilized
Authenticity: Verified by N-terminal and Mass Spectrometry analyses.
Purity: ≥ 95% by SDS-PAGE gel and HPLC analyses.
Endotoxin: Endotoxin level is < 0.1 EU/μg of protein.
Protein Content: Verified by UV Spectroscopy and/or SDS-PAGE gel.
Biological Activity: Promotes attachment of hPSC in serum-free conditions
Instructions for Use
Preparation of Vitronectin ACF, 0.5mg/ml
Reconstitution procedure should be performed on ice.
Spin down the vial before reconstitution.
To the original 0.2mg vial add 0.4ml of sterile tissue culture water. DO NOT VORTEX.
Incubate on ice for a few minutes.
Gently mix by pipetting up and down.
Keep on ice for immediate use (up to 1 week at 2-8°C)
For long-term storage (3 months) aliquot and freeze at (-80)°C. Additional freeze-thaw cycles are not recommended.
Additional information
| | |
| --- | --- |
| Quantity | 200 µg |
| Storage Conditions | -20° to -80°C |
Data Sheets
Manuals and Protocols
Technical Resources