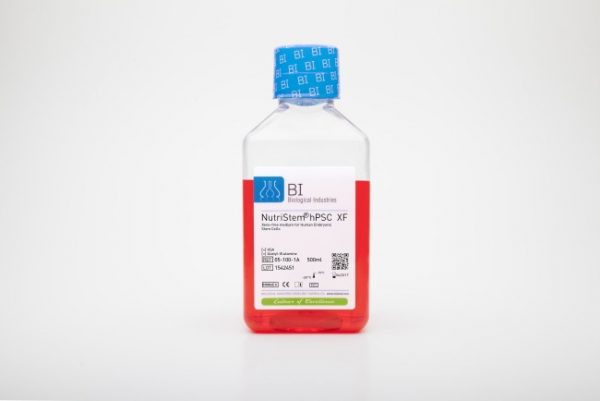 Nutristem hPSC XF Medium
Defined, xeno-free, serum-free medium
Designed for optimal growth and expansion of human iPS and hES cells
| name | SKU | size |
| --- | --- | --- |
| NutriStem® hPSC XF Medium, 500mL | 05-100-1A | 500 mL |
| NutriStem® hPSC XF Medium, 100mL | 05-100-1B | 100 mL |
| NutriStem® hPSC XF Medium (Growth Factor-Free) | 06-5100-01-1A | 500 mL |
Description
Specifications
References
Documentation
Reviews (0)
Description
NutriStem hPSC Overview
NutriStem® hPSC XF Medium is a defined, xeno-free, serum-free cell culture medium designed to support the growth and expansion of human induced pluripotent stem (hiPS) and human embryonic stem (hES) cells. Nutristem hPSC is widely published and numerous protocols have been established for applications that incorporate the complete cell culture process from derivation to differentiation. NutriStem hPSC XF Medium allows for pluripotent stem cells to be cultured in a completely xeno-free system, without the need for high levels of basic FGF and other stimulatory growth factors and cytokines. The superior cell attachment and proliferation NutriStem hPSC XF Medium provides makes it an excellent medium choice to permit high-throughput screening applications. The reliable and consistent cellular morphology and growth of cells cultures in NutriStem hPSC XF Medium increases experimental reproducibility and has been shown in long-term growth of over 50 passages whilst preserving normal karyotypes.
NutriStem hPSC XF Features
Defined, serum-free, and xeno-free
Allows for flexibility to derived cells with a variety matrices
Allows for weekend-free culture
FDA Drug Master File (DMF) available, produced under cGMP
Enables efficient expansion and growth of hES and hiPS cells in feeder-free culture systems
Low-protein formulation that contains stable L-alanyl-L-glutamine and HSA
Extensively tested and widely used on multiple hES and iPS cell lines, including H1, H9.2, I6, I3.2, and CL1
Sample Data
Cell morphology
Immunostaining
Embryoid body formation
Instructions for Use  
Upon thawing, the medium may be stored at 2 – 8ºC for 10 to 14 days
Media should be aliquotted into smaller working volumes to avoid repeated freeze/thaw cycles
Avoid exposure to light
Note: A common feeder-free basement membrane matrix is Matrigel, which is not xeno-free. Effective xeno-free alternatives to Matrigel is recombinant laminin, such as LaminStem(R) 521 (BI Cat. No. 05-753-1F) which has been validated to successfully culture human ES and iPS cells using NutriStem® hPSC XF medium.
Legal : NutriStem® hPSC XF is registered as an In-vitro diagnostic (IVD) medical device. NutriStem® is a registered trademark of Biological Industries​.

A Drug Master File (DMF) for NutriStem® hPSC XF is available.
Additional information
| | |
| --- | --- |
| Brand | |
| Form | Liquid |
| Storage Conditions | Store at -20ºC |
| Shipping Conditions | Dry Ice |
| Quality Control | NutriStem® hPSC is routinely tested for optimal maintenance and expansion of undifferentiated hESCs. Additional standard evaluations are pH, osmolality, endotoxins and sterility tests. |
Growing Methods of hESC and iPSC (Derivation, Expansion, Scaling up, and Suspensions)
 Differentiation of Pluripotent Stem Cells
Cardiomyocyte differentiation
Gene Editing
Sweeney, CL et al.Targeted Repair of CYBB in X-CGD iPSCs Requires Retention of Intronic Sequences for Expression and Functional Correction,Molecular Therapy, 2017
J. Lenzi et al., ALS mutant FUS proteins are recruited into stress granules in induced Pluripotent Stem Cells (iPSCs) derived motoneurons. Disease Models & Mechanisms: 8, 755-766, 2015
T. Cerbini et al., Transfection, Selection, and Colony-picking of Human Induced Pluripotent Stem Cells TALEN-targetedwith a GFP Gene into the AAVS1 Safe Harbor, JoVE (Journal of Visualized Experiments), 2015
 Induction of Pluripotency of hESC and iPSC
Proteins and Antibodies Expression and Isolation
D.R. Riordon and K.R. Boheler, Immunophenotyping of Live Human Pluripotent Stem Cells by Flow Cytometry. In: Boheler K., Gundry R. (eds) The Surfaceome. Methods in Molecular Biology, vol 1722. Humana Press, New York, NY, 2018
N.Y. Thakar et al., TRAF2 recruitment via T61 in CD30 drives NFkB activation and enhances hESC survival andproliferation, Molecular Biology of the Cell: 26(5):993-1006 2015
Abcam, Immunocytochemistry / Immunofluorescence abreview for Anti-Oct4 antibody - ChIP Grade. Abcam website
Clinical Applications- Derivation and Expansion of hESC and IPSC
Drug Screening
Animal Models
W. Zhang, et al. Distinct MicroRNA Expression Signatures of Porcine Induced Pluripotent Stem Cells under Mouse and Human ESC Culture Conditions. PLOS ONE, 2016
Patents