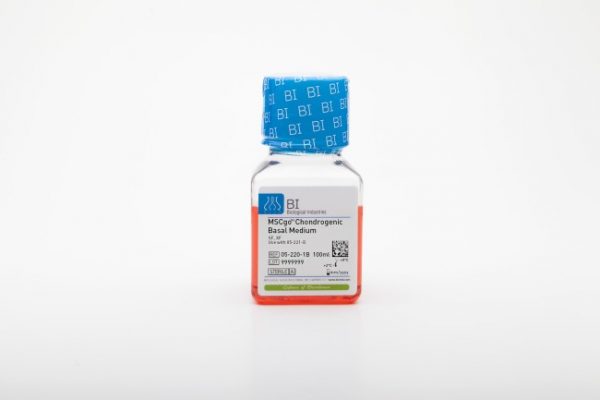 MSCgo Chondrogenic Differentiation Medium
Complete, serum-free, xeno-free, ready-to-use kit
Optimized for directed differentiation of hMSCs to chondrocytes
Description
Specifications
References
Documentation
Reviews (0)
Description
Product Overview
MSCgo™ Chondrogenic Differentiation Medium is a serum-free (SF) and xeno-free (XF) formulation developed for optimal differentiation of human mesenchymal stem cells (hMSC) to mature chondrocytes. The MSCgo™ Chondrogenic Differentiation Medium is validated to efficiently differeniate hMSC from a variety of sources, including bone marrow (BM-MSC), adipose tissue (AT-MSC), and umbilical cord tissue (UC-MSC).
The kit includes a basal medium and supplement, containing all growth factors and supplements necessary for a complete chondrogenic differentiation medium.  No additional supplements are required.
The MSCgo™ Chondrogenic Differentiation protocol is part of a complete system for multipotency evaluation of hMSCs.  This kit enables reliable differentiation of hMSCs to mature chondrocytes without background differentiation or interruption in cellular metabolism.
Features
Serum-free, xeno-free medium
All required growth factors and supplements included in kit
Reliable differentiation to mature chondrocytes
Each lot is application tested
Does not contain antibiotics
Components
MSCgo Chondrogenic Differentiation Basal Medium:  100 mL
MSCgo Chondrogenic Differentiation Supplement Mix :  10 mL
Chondrogenesis Results
Chondrogenic differentiation of hMSC in 3D spheroid culture in the formation of cartilage with a typical extracellular matrix rich of Aggrecan. Aggrecan is a proteoglycan that can be used as an indicator for cartilage formation and can be detected with Alcian Blue, a dark-blue copper-containing dye that acts as an indication of mature chondrocytes. The staining intensity can be vary using different hMSC (e.g. source, age, and passage number).
Cartilage differentiation results of hMSC from various sources after 21 day assay using MSCgo™ Chondrogenic followed by Alcian Blue staining.
Histological images of mature chondrocytes surrounded by a cartilage matrix after a 21-day differentiation assay using MSCgo™ Chondrogenic Medium followed by Toluidine blue (40x).
Specifications
Required Materials for Chondrogenic Assay
MSCgo™ Chondrogenic Differentiation Medium (BI Cat. No. 05-220-1 and 05-221-1)
96-well, U-bottom, non-tissue culture treated plate (for suspension)
MSC NutriStem® XF (BI Cat. No. 05-200-1)
Alcian Blue 8 GX – OPTIONAL
Instructions for Use
Complete Medium Preparation
1.  Thaw MSCgo™ Chondrogenic Supplement Mix (05-221-1D) at room temperature.
2.  Dilute the Supplement Mix 1:10 in the MSCgo™ Chondrogenic Basal Medium (05-220-1B) by adding 10 mL of the Supplement Mix to 90 mL of Basal Medium.
3.  Store the complete medium at 2 to 8°C for up to 30 days.
Note:  The combination of the MSCgo Chondrogenic Supplement Mix into the Basal Medium generates a complete medium that is ready for use.  No additional supplements are required.
Additional information
| | |
| --- | --- |
| Quantity | 100 mL |
| Form | Liquid |
| Brand | |
| Storage Conditions | Chondrogenic Differentiation Basal Medium: 2 to 8°C, Chondrogenic Differentiation Supplement Mix : -20°C |
| Shipping Conditions | Cold Pack |
| Quality Control | The MSCgo Chondrogenic Differentiation Kit is validated for optimal differentiation of hMSC into chondroocytes. Additional tests are: pH, osmolality, endotoxins and sterility tests. |
| Legal | For human ex vivo tissue and cell culture processing applications. This reagent is not approved for human or animal use, or for application of in vitro diagnostic procedures. |
Materials Safety Data Sheet
Manuals and Protocols