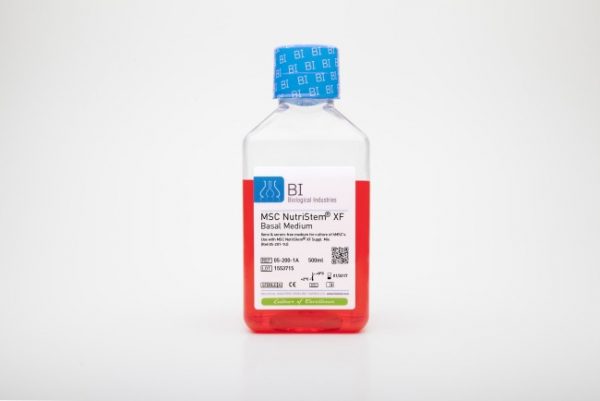 MSC Nutristem XF Medium
Defined, xeno-free, serum-free MSC culture medium
Eliminates the need to spend time and money prequalifying FBS lots
GMP-defined, FDA Drug Master File (DMF) available
| name | SKU | size |
| --- | --- | --- |
| MSC NutriStem® XF Medium (Basal Medium + Supplement) (US only) | 05-200-1A-KT | 500 mL |
| MSC NutriStem® XF Basal Medium | 05-200-1A | 500 mL |
| MSC NutriStem® XF Basal Medium, without Phenol Red | 05-202-1A | 500 mL |
| MSC NutriStem® XF Supplement Mix | 05-201-1U | 3 mL |
Description
Specifications
References
Documentation
Reviews (0)
Description
MSC Nutristem Overview:
Faster growth rates and stronger MSC yields
The quality of the culture medium used for expansion of hMSCs is crucial to the potential therapeutic applications of the cells, since hMSCs properties are significantly affected by medium composition and culture conditions.
MSC Nutristem XF Medium is a defined, serum-free, xeno-free culture medium specially designed to support the growth of hMSC derived from a variety of sources that include: bone marrow (hMSC-BM), adipose-tissue (hMSC-AT), Wharton's Jelly (hMSC-WJ), placenta (hMSC-PL), umbilical-cord matrix (hMSC-UC) and dental pulp (hMSC-DP).
Key advantages
Serum-free, xeno-free, defined culture system
Superior cell growth compared to serum-containing media
Supports long-term growth and self-renewal of hMSCs from multiple sources
cGMP-manufactured, FDA Drug Master File (DMF) available
Superior maintenance of hMSC characteristics and cell morphology
Karyotypic stability and over long-term culture
Customisation available and customisable packaging configurations (i.e 1-20L bags)
Cells cultured in serum-containing medium do not require an adaptation phase when transitioning to serum-free MSC NutriStem XF Medium.
Sample MSC Nutristem Data
Initial isolation
Proliferation
Self-renewal potential
Differentiation potential
Instructions for Use
MSC NutriStem® XF Medium is recommended for use in conjunction with MSC Attachment Solution (Cat. No. 05-752-1).
Storage and Stability
MSC NutriStem® XF Basal Medium (05-200-1) should be stored at 2 to 8°C.
MSC NutriStem® XF Supplement Mix (05-201-1) should be stored at -20°C. Avoid freeze/thaw cycles.
The complete MSC NutriStem® XF Medium is stable at 2 to 8°C for up to 30 days.
Avoid exposure to light
Medium Preparation
Thaw frozen MSC NutriStem® XF Supplement Mix at at 2 to 8°C or room temperature
MSC NutriStem® XF Basal Medium contains L-glutmine
To prepare 100 mL of complete medium:  aseptically add 0.6 mL of MSC NutriStem® XF Supplement Mix to 100 mL of MSC NutriStem XF Basal Medium
To prepare 500 mL of complete medium:  aseptically add 3 mL of MSC NutriStem® XF Supplement Mix to 500 mL of MSC NutriStem XF Basal Medium
Store complete MSC NutriStem® XF Medium at 2 to 8°C protected from light for up to 30 days
Additional information
| | |
| --- | --- |
| Quantity | 3 mL, 500 mL |
| Brand | |
| Form | Liquid |