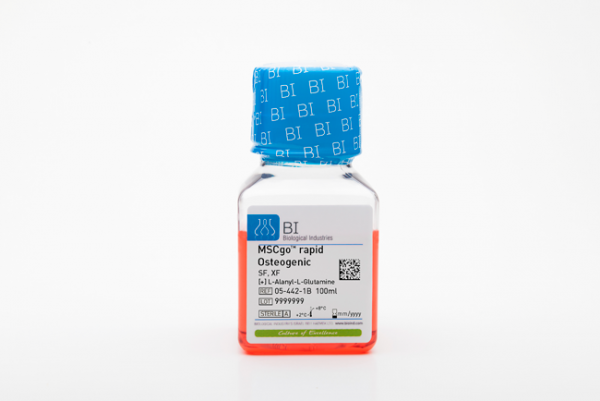 MSCgo Rapid Osteogenic Differentiation Medium
Complete, serum-free, xeno-free, ready-to-use medium
Optimized for faster directed differentiation of hMSCs to osteoblasts
SKU: 05-442-1B
Description
Specifications
References
Documentation
Reviews (0)
Description
MSCgo Rapid Osteogenic Differentiation Medium Overview
MSCgo™ Rapid Osteogenic Differentiation Medium is a serum-free (SF), xeno-free (XF), complete, and ready to use formulation developed for optimal differentiation of human mesenchymal stem cells (hMSC) to mature osteocytes. The MSCgo™ Rapid Osteogenic Differentiation Medium is validated to efficiently differeniate hMSC from a variety of sources, including bone marrow (BM-MSC), adipose tissue (AT-MSC), and umbilical cord tissue (UC-MSC). The protocol is part of a complete system for multipotency evaluation of hMSCs.  The MSCgo™ Rapid Osteogenic Differentiation Medium enables fast osteogenesis of hMSCs.  Differentiation to mature osteocytes is seen in less than 10 days.
Features
Serum-free, xeno-free solution
Complete differentiation medium
Ready-to-use, simple protocol
Rapid differentiation to osteocytes (less than 10 days)
Contains stable L-alanyl-L-glutamine
Does not contain antibiotics
Osteogenesis Results
Osteogenic differentiation of hMSC results in the formation of mineralized culture with calcified nodules and calcium secretion that can be detected with Alizarin Red S (ARS) staining. The ARS is used to stain calcium deposits formation which are an indication of mature osteocytes. The amount of calcified nodules formation and calcium secretion can be varying using different hMSC (e.g. source, age, and passage number).
Required Materials for Osteogenic Assay
MSCgo™ Osteogenic Differentiation Medium (BI Cat. No. 05-440-1) or MSCgo™ Rapid Osteogenic Differentiation Medium (BI Cat. No. 05-442-1)
MSC NutriStem® XF Medium (BI Cat. No. 05-200-1)
MSC Attachment Solution (BI Cat. No. 05-752-1)
Alizarin Red S (ARS) – OPTIONAL
Additional information
| | |
| --- | --- |
| Quantity | 100 mL |
| Form | Liquid |
| Brand | |
| Storage Conditions | 2 to 8°C |
| Shipping Conditions | Cold Pack |
| Quality Control | The MSCgo Rapid Osteogenic Differentiation Medium is validated for optimal differentiation of hMSC into osteocytes. Additional tests are: pH, osmolality, endotoxins and sterility tests. |
| Legal | For human ex vivo tissue and cell culture processing applications. This reagent is not approved for human or animal use, or for application of in vitro diagnostic procedures. |
Materials Safety Data Sheet
Manuals and Protocols