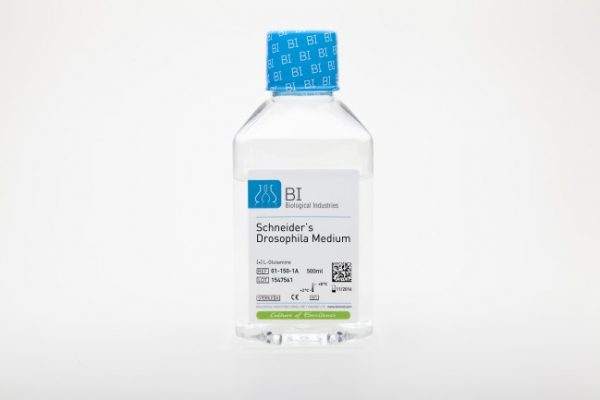 Schnieder's Drosophila Medium
Schneider's Drosophila Medium designed and optimized for supporting the rapid growth of both primary and established cultures of cells derived from Drosophila melanogaster known colloquially
Description
Specifications
Documentation
Reviews (0)
Description
Product Overview
Schneider's Drosophila Medium, with L-Glutamine is a medium designed and optimized for supporting the rapid growth of both primary and established cultures of cells derived from Drosophila melanogaster known colloquially as the fruit, banana, pomace, vinegar and wine fly to name a few.
This medium has been utilized for the growth and maintenance of cell lines originally derived by Schneider from the embryos of Drosophila spp. in addition to cell culture of other Dipteran species.
Drosophila melanogaster is probably the most familiar and well-known insect in the world of genetic research and is a key model that has greatly contributed to the advance of genetics, behavior, aging ,developmental biology and evolution. It is, also outside of academic circles, one of the most unappreciative and unaccredited key players in some of the twentienth century's greatest biological discoveries.
The billions of diminutive and minute fruit-flies that were bred and literally, the hundreds of thousands of published scientific papers illustrating practically every aspect of their unique lives is a testament to their enduring and widespread legacy. With its four pair of chromosomes and a new generation every twelve days, it is no wonder and a fact that most every discovery in the field of Modern Genetics from Gene Therapy to Cloning to the Human Genome Project is built on the foundations of early 20th Century fruit-fly research. Literally, with a wild fruit-fly population, the process of evolution is fixed in a matter of months not eons in a space-time continuum.
The complete formulation is available.
Additional information
| | |
| --- | --- |
| Quantity | 500 mL |
| Glutamine | L-Glutamine |
| Storage Conditions | 2-8°C |
Materials Safety Data Sheet