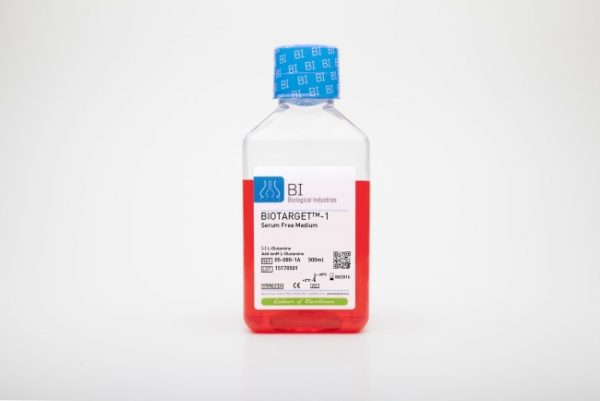 BIOTARGET-1 SFM
Serum-free, xeno-free medium, optimized specifically for culturing PBMCs, 500 mL
Description
Specifications
References
Documentation
Reviews (0)
Description
BIOTARGET-1 SFM Overview:
BIOTARGET-1 SFM is a serum-free, xeno-free medium specially developed and optimised for culturing PBMC – peripheral blood mononuclear cells (lymphocytes and monocytes). This medium is available in several customised packaging configurations to suit your experimental needs, including Sartorius-Stedim cultibags.
Advantages
Xeno-free
Chemically defined
No added cytokines
Comprehensive validation studies
CE Mark
Manufactured in ISO 13485:2003 and ISO 9001:2008 certified facility
Applications
Mitogen mediated activation of peripheral blood mononuclear cells (PHA, CON.A, OKT-3)
Lymphoid cell mediated activation of mononuclear cells (RAJI, PEER, BA, MOLT-4, JURKAT)
IL-2 and IL-3 production from mononuclear cells
Long-term post- activation culture of mononuclear cells
LAK / TIL cell generation by mononuclear cell interleukin-2 mediated activation
Natural killer cell (NK) generation by mononuclear cell activation
Cytotoxic T cell generation by mononuclear cell activation
Activation of macrophages
Investigating various cytokines' influence on the production of mononuclear cell sub-populations
HIV proliferation
Retrovirus proliferation in T cells for vaccine development
Additional information
| | |
| --- | --- |
| Quantity | 500 mL |
| Glutamine | No Glutamine |
| Storage Conditions | 2-8°C |
| Shipping Conditions | Cold Pack |
Y. Fisher et al. Th1 Polarization of T Cells Injected into the Cerebrospinal Fluid Induces Brain Immunosurveillance. The Journal of Immunology, vol. 192 no. 1 92-102, 2014.
Y. Tal et al. An NCR1-based chimeric receptor endows T-cells with multiple anti-tumor specificities. Oncotarget, 5(21): 10949–10958, 2014.
Y. Ilan, H.L. Weiner. Combination Therapy of Beta-Glycolipids and Antibodies for the Treatment of Immune-Related Disorders. US 20140255420 A1, 2014.
C. Ankri et-al. Human T Cells Engineered To Express a Programmed Death 1/28 Costimulatory Retargeting Molecule Display Enhanced Antitumor Activity. The Journal of Immunology vol. 191 no. 8 4121-4129, 2013.
I. Llaudó et al. Do drug transporter (ABCB1) SNPs and P-glycoprotein function influence cyclosporine and macrolides exposure in renal transplant patients? Results of the pharmacogenomic substudy within the symphony study. Transplant International Volume 26, Issue 2, pages 177–186, February 2013.
Y. Porat. Method for using directing cells for specific stem/progenitor cell activation and differentiation. US 8956870 B2, 2013 .
I. Daniel-Meshulam et al. Enhanced antitumor activity mediated by human 4-1BB-engineered T cells. International Journal of Cancer, Volume 133, Issue 12, pages 2903–2913, 2013.
I. Llaudó Vallmajor et al. Impact of small molecules immunosuppressants on P-glycoprotein activity and T-cell function. Journal of Pharmacy and Pharmaceutical Sciences, vol. 15, num. 3, p. 407-419, 2012 .
A. Nemirovski et al. Active Aβ vaccination fails to enhance amyloid clearance in a mouse model of Alzheimer's disease with Aβ42-driven pathology. Journal of Neuroimmunology, Volume 247, Issues 1-2, Pages 95–99, 2012 .
S. Abuybul et al. TGF-β signaling through SMAD2/3 induces the quiescent microglial phenotype within the CNS environment. Glia Volume 60, Issue 7, pages 1160–1171, July 2012.
E. Elinav, N. Adam, T. Waks and Z. Eshhar. Amelioration of Colitis by genetically engineered murine regulatory T cells redirected by antigen-specific chimeric receptor. Gastroenterology 136(5): 1721-1731, 2009.
Yang-Ming Tseng, Sheng-Yi Chen, Chien-Hung Chen, et al.,. Effects of Alcohol-Induced Human Peripheral Blood Mononuclear Cell (PBMC) Pretreated Whey Protein Concentrate (WPC) on Oxidative Damage. Journal of Agricultural and Food Chemistry, 56 (17): 8141–8147, 2008.
Q. Leng, Z. Bentwich and G. Borkow. Increased TGF-ß, Cbl-b and CTLA-4 levels and immunosuppression in association with chronic immune activation. International Immunology 18(5): 637-644, 2006.
D. Melamed, O. Messika, L. Glass-Marmor and A. Miller. Modulation of matrix metalloproteinase-9 (MMP-9) secretion in B lymphopoiesis. International Immunology 18(9):1355-1362, 2006.
C. Rabinowitz and B. Rinkevich. Epithelial cell cultures from Botryllus schlosseri palleal buds: accomplishments and challenges. Methods in Cell Science 25 (3-4), 2004.
F. Martí, E. Bertran, M. Llucià, et al., Platelet factor 4 induces human natural killer cells to synthesize and release interleukin-8. Journal of Leukocyte Biology 72: 590-597, 2002.
A. Bishara, R. Malka, C. Brautbar, et al., Cytokine production in human mixed leukocyte reactions performed in serum-free media. Journal of Immunological Methods 215 (1-2): 187-190, 1998.
G. Kampen, L. Poulsen, C. Reimert and P. Skov. A method for production and determination of histamine releasing activity from human peripheral blood mononuclear cell. Journal of Immunological Methods 210(2): 185-193, 1997.
S. Morecki, Y. Gelfand, S. Levi, et al., Activated long-term peripheral blood cultures as preparation for adoptive alloreactive cell therapy in cancer patients. Journal of Hematotherapy, 6 (2):115-124, 1997.
Malka R.; Brautbar C.; Kedar E.; et al., Human mixed leukocyte reaction (MLR) performed in serum-free media and serum-containing medium. Human immunology 44(1) : 137, 1995.
Materials Safety Data Sheet
Technical Information