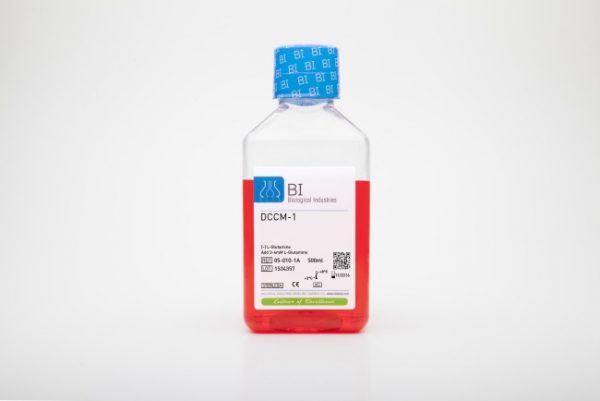 DCCM-1 SFM
High protein serum-free medium, designed for hybridoma cell growth and monoclonal antibody production
Description
Specifications
References
Documentation
Reviews (0)
Description
DCCM-1 SFM:
DCCM-1 is serum-free medium, specially optimised for the growth of hybridoma cells and for monoclonal antibody production. This medium is a high protein formulation designed to maximise the growth of cells, and it is ready-to-use and needs only the addition of L-Glutamine. DCCM-1 contains BSA.
Applications
Culture of myeloma and hybridoma cells
Monoclonal antibody production
Culture of human lymphocyte cells (including stimulated or transformed cells)
Additional information
| | |
| --- | --- |
| Quantity | 500 mL |
| Glutamine | No Glutamine |
| Storage Conditions | 2-8°C |
| Shipping Conditions | Cold Pack |
McClelland AR, Barrow D, Madden TA, et al., Enhanced Epidermal Growth Factor Receptor Signaling in MCF7 Breast Cancer Cell after Long-Term Culture in the presence of the Pure Antiestrogen ICI 182,780 (Faslodex). Endocrinology 142 (7): 2776-2788 (2001)
Suarez Y, Fernandez C, Ledo B, et al., Differential effects of ergosterol and cholesterol on Cdk1 activation and SRE-driven transcription. Eur. J. Biochem. 269 (6): 1761-1771 (2002)
Teitelbaum D, Arnon R, Sela M, et al., Immunomodulation of experimental autoimunne encephalomyelitis by oral administration of copolymer 1. Proc. Natl. Acad. Sci. USA 96 (7): 3842-3847 (1999).
Rotem-Yehudar R, Galperin E, Horowitz M. Association of Insulin- like Growth Factor 1 Receptor with EHD1 and SNAP29.  J. Biol. Chem. 276 (35): 33054-33060 (2001).
Fares FA, Levi F, Reznick AZ, Kraiem Z. Engineering a Potential Antagonist of Human Thyrotropin and Thyroid-stimulating Antibody. J. Biol. Chem. 276 (7): 4543-4548 (2001).
Kraiem Z, Sadeh O, Yosef M. Iodide uptake and origanification, tri-iodothyronine secretion, cyclic AMP accumulation and cell proliferation in an optimized system of human thyroid follicles cultured in collagen gel suspended in serum-free medium. Journal of Endocrinology 131(3): 499-506 (1991).
Shirvan A, Ziv I, Machlin T, et al., Two Waves of Cyclin B and Proliferating Cell Nuclear Antigen Expression During Dopamine-Triggered Neuronal Apoptosis. J. Neurochem. 69 (2): 539-549 (1997).
Heinrich R, Kraiem Z. The Protein Kinase A Pathway Inhibits c-jun and c-fos Protooncogene Expression Induced by the Protein Kinase C and Tyrosine Kinase Pathways in Cultured Human Thyroid Follicles. Journal of Clinical Endocrinology and Metabolism 82 (6): 1839-1844 (1997).
Leshem B, Brass D. Mouse lymphoblasts lose their immunogenicity and susceptibility to specific cytotoxic T lymphocyte lysis during maintenance in culture. Immunology 95(3): 409-418 (1998).
Levodopa Induces Apoptosis in Cultured Neutronal Cells – A Possible Accelerator of Nigrostriatal Degeneration in Parkinson's Disease?.  Movement Disorders 12 (1): 17-23 (1997).
Lazarov-Spiegler O, Solomon AS, Zeev-Brann AB, et al., Transplantation of activated macrophages overcomes central nervous system regrowth failure. FASEB J. 10: 1296-1302  (1996).
Kraiem Z, Sadeh O, Yosef M, et al., Mutual Antagonistic Interactions between the Thyrotropin (Adenosine 3', 5'- Monophosphate) and Protein Kinase C/Epidermal Growth Factor (Tyrosine Kinase) Pathways in Cell Proliferation and Differentiation of Cultured Human Thyroid Follicles. Endocrinology 136 (2): 585-590
Richards R J, Oreffo I C V, Lewis W R. Clara cell culture from the mouse and their reaction to bronchiola toxins. Environmental Health Perspectives 85: 119-127 (1990).
Materials Safety Data Sheet
Technical Guide