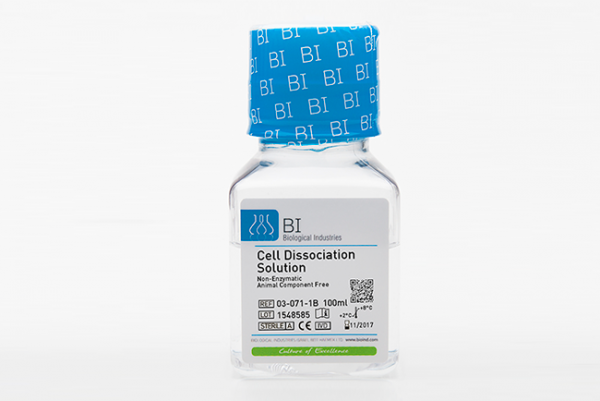 Cell Dissociation Solution (non-enzymatic)
Gentle, Non-Enzymatic Cell Dissociation
Animal Component-Free 
SKU: 
03-071-1B
Description
Specifications
Documentation
Reviews (0)
Description
Cell Dissociation Solution
The Cell Dissociation Solution is non-enzymatic, ready-to-use reagent designed for gently dislodging adherent cell types from tissue culture plates. The Cell Dissociation Solution is an alternative to enzyme-based dissociation solutions, maximizing the yield of functionally viable cells when used with serum-free or serum-containing media. While cellular damage often occurs when cultures are exposed to protein-digestive enzymes, such as trypsin, for extended periods of time, this risk is minimized with the use of the more gentle non-enzymatic Cell Dissociation Solution.
Features
Defined, animal component-free
Contains no enzymes or proteases
Ready-to-use solution
Gentle cell disaggregation and high cell viability
Suitable for serum-free and serum-containing culture conditions
Reduces the risk of cellular damage associated with long exposure time and/or enzyme-based dissociation
Specifications
The performance of the Cell Dissociation Solution (non-enzymatic) is validated using Vero cells pre-adapted to serum-free culture. Additional standard QC evaluations performed are pH, osmolality, and sterility tests.
Additional information
| | |
| --- | --- |
| Quantity | 100 mL |
| Storage Conditions | 2 to 8°C |
| Shipping Conditions | Cold Pack |
| Form | Liquid |
Materials Safety Data Sheet
Manuals and Protocols