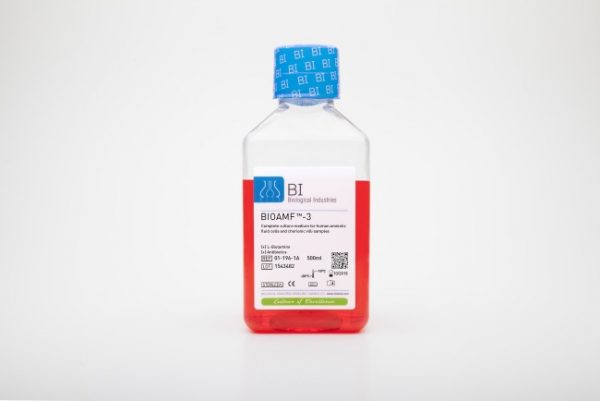 BIOAMF-3 Complete Medium
Optimized for increased metaphase yield in the primary culture of human amniotic fluid cells and chorionic villi samples
| name | SKU | size |
| --- | --- | --- |
| BIO-AMF™-3 Complete Medium, 500mL | 01-196-1A | 500 mL |
| BIO-AMF™-3 Complete Medium, 100mL | 01-196-1B | 100 mL |
Description
Specifications
Documentation
Reviews (0)
Description
BIOAMF-3 Overview:
BIOAMF-3 Complete Medium is a is a further optimised, fully supplemented medium featuring an enhanced buffering system, improved banding quality, increased metaphase yield and reduction in epithelial cell colonies. This medium accelerates the growth of the non-epithelial cells used for chromosome karyotyping.
Advantages
Ready-to-use
Single bottle formulation, complete with L-Glutamine and Gentamycin that is shipped frozen. Upon receipt, simply thaw and use. We recommend storing thawed medium at 2-8°C for up to fourteen days.
Quality and performance testing
Evaluated for cell growth using primary human amniotic fluid cells from a leading clinical cytogenetics laboratory. Each batch is tested for sterility, pH, osmolality and endotoxin concentrations.
Optimized and complete solution
Prepared with Fetal Bovine Serum (FBS), L-Glutamine and Gentamycin optimized for both open (CO2) and closed systems.
Product Use: For human amniotic and chorionic villus samples
cGMP Manufacturing and Quality System Manufactured at our cGMP compliant facility, located in Beit Haemek, Israel. The facility is registered with the FDA as a medical device manufacturer and is certified to ISO 13485 standards.
Additional information
Quantity

100 mL, 500 mL

Brand
Form

Liquid

Cell Type

Amniocytes

Glutamine

L-Glutamine

Antibiotics

Gentamycin

Shipping Conditions

Dry Ice

Storage Conditions

-20ºC

Shelf Life

24 months from date of production and stored frozen

After thawing, 14 days at 2°C to 8°C
Materials Safety Data Sheet
Manuals and Protocols